Restorative yoga is a gentle, slow, still style of yoga that involves long, passive holds in a series of restful poses. Yogis are often supported by props to enhance or deepen their experience and achieve a state of total relaxation and release. Restorative yoga classes are based on the teachings of B.K.S.Iyengar .
Restorative yoga enables deep relaxation as you are holding poses for longer periods of time with the help of props to completely support you. The main focus of Restorative Yoga is that by relaxing in poses, with the aid of props, without strain or pain, we can achieve physical, mental and emotional relaxation.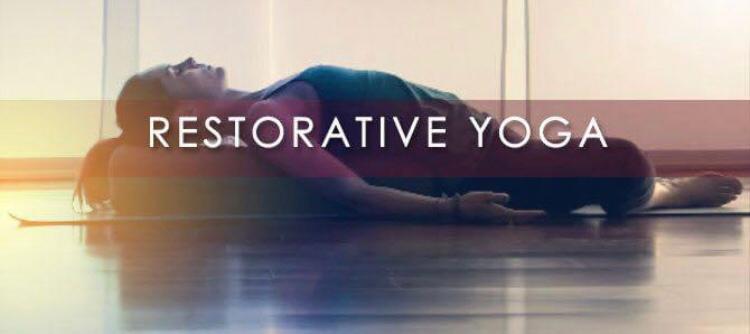 Brenda's Restorative Evenings have been running for 13 years now both in studio and online via zoom and have gathered a huge following over the years- always  booking out well in advance – the many benefits of the practice speak for themselves as people return again and again .
Rather than follow the traditional model for Restorative Yoga, Brenda draws from her many years of  experience in a number of modalities to create sequences of postures using Somatic Movement, MyoFascial Release Techniques, Yin and Restorative Yoga Postures, Pranayama ( breath work ) and Yoga Nidra Practice to guide the body and mind into ever deeper levels of rest and release – the focus always being on reseting the nervous system and creating an internal environment that encourages  natural healing to take place and invites the practioncioner into a place of very deep rest& relaxation – physically, mentally and emotionally .
Restorative Yoga is suitable for all levels and all bodies.
New dates will be added shortly for:
🌸 studio restorative
Testimonial

I have been practicing yoga in Brenda's studio for over 10 years now and always looked forward to the Friday restorative evenings that were run usually every 6 weeks. Brenda is an amazing teacher and guides us into a deep relaxing practice, while remaining totally relaxed and heavy in each pose yet going deeper inwards in our bodies, without moving much really! Brenda's voice guides us through a gentle but deep restorative poses while remaining deeply comfortable, safe and warm with the use of all the props provided.

The online version of Brenda's restorative is an amazing experience, I found a quiet space with low lighting and plenty cushions and pillows (in the bedroom) and joined the class online, yet again Brenda's voice guided me towards deep relaxation staying in each relaxing pose for several minutes before moving onto the next, these poses are thought out and planed one following the other so that we are being gentle guided to go deeper into our bodies in a totally safe and methodical way with breathing techniques and the safety and comfort of props and blankets.

I have actually fallen asleep towards the end in these (classes sometimes during) which actually shows the power if this amazing form of yoga and the excellence of Brenda how she holds the space for us and her delivery brings the whole class to a wonderful peaceful resting state.

Una